A New Edition of the Standard Reference for Understanding Sociocracy
Since the publication of the first edition in 2007, We the People has become the definitive handbook for learning about sociocracy and its method of collaboratively designing and organizing successful organizations. The principles and practices are designed to ensure that all members are respected so the commitment of everyone in the organization is enhanced.
In English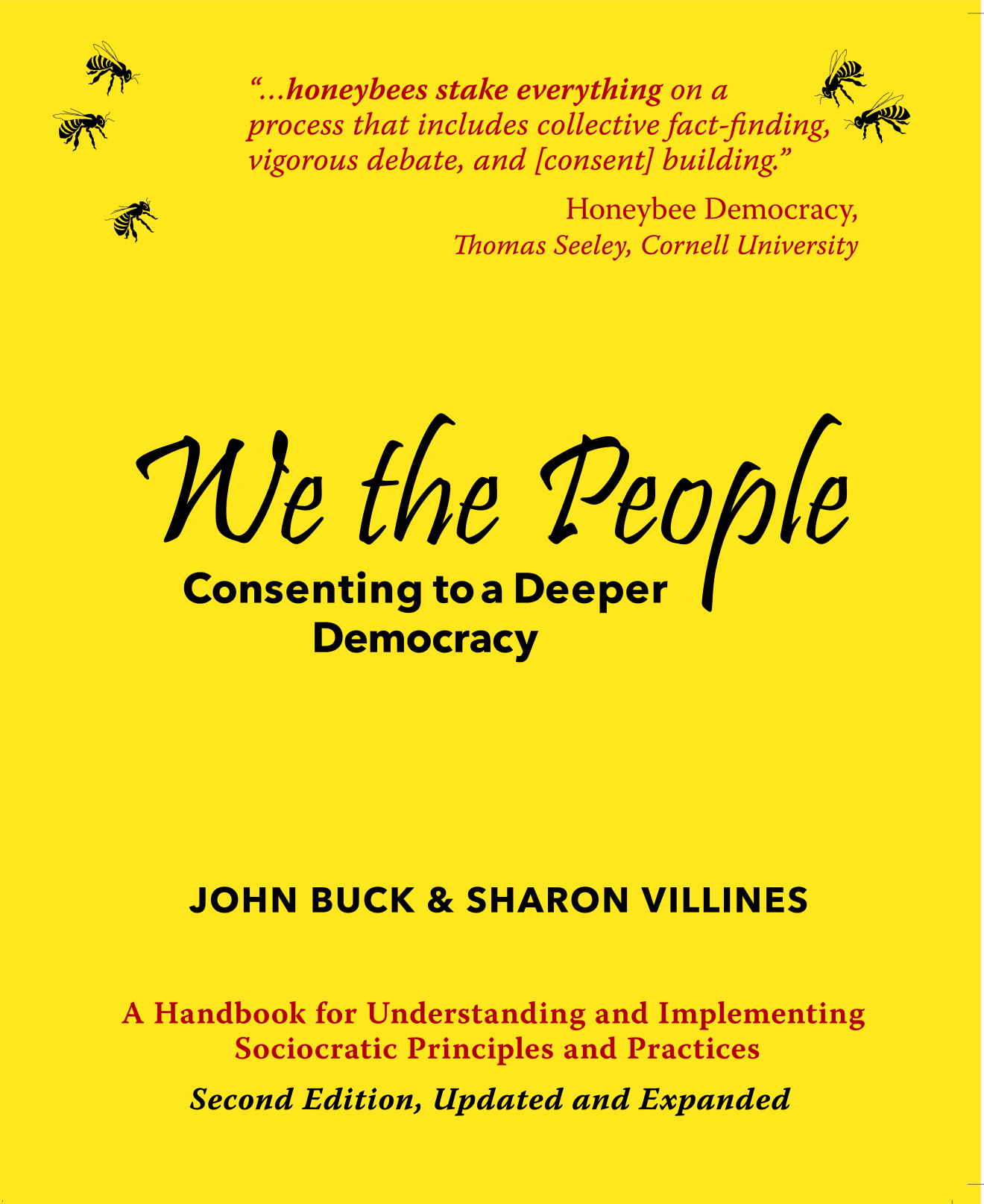 The updated and expanded edition of We The People: Consenting To A Deeper Democracy by John Buck & Sharon Villines is now available in both print and digital editions.(The digital edition has been reformatted.)
Softcover: ISBN: 978-0-9792827-3-7
Digital: ISBN: 978-0-9792827-2-0
In Spanish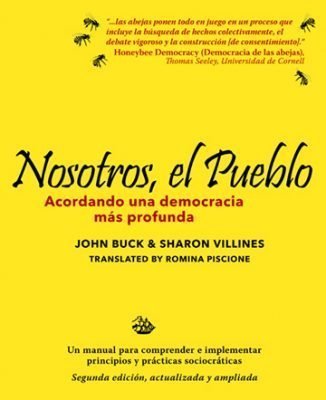 The Spanish edition, Nosotros, el Pueblo, Acordando una democracia más profunda was translated by Romina Piscione of RPP Translations. It is available from the ebook sellers listed below.
ISBN: 978-0-9792827-4-4
In Portuguese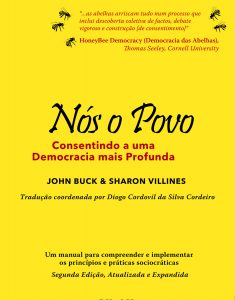 The Portuguese edition, Nós o Povo, Consentindo a uma Democracia mais Profunda was translated by a team of translators coördinated by Diogo Cordovil S. Cordeiro.  It is available from the ebooksellers below.
ISBN: 978-0-9792827-5-1
Contents
We the People includes a number of resources not available elsewhere:  "how to" information, reprints of historical texts, short guides for meetings, a glossary, and a selected bibliography. The print edition is fully indexed.
 Also includes:
The history and theory of sociocracy
Its foundation in cybernetics
The reasoning behind the essential principles,
The  Sociocratic Circle Method's relationship to traditional management theory
 The implementation process
Classic texts
Examples of bylaws for businesses and nonprofits
Short guides for meetings and decision-making
Glossary
Bibliography
Index
Many more photographs, diagrams, charts, and tables.
Also see: Errata and Supplementary Materials and 27-Block Charts
Where and How to Find We the People
The paper and digital editions of the English edition are available on Amazon, Barnes & Noble, Powell Books, and other online booksellers. Specialized works on governance are often not stocked by brick and mortar bookstores, but your bookstore can special order them through Ingram, the major distributor of books to bookstores. (And please encourage them to stock the book.)
Searching for the book in online databases is complicated. After months of complaints about online booksellers not carrying the book, I spent a day—yes, all day—searching online bookstores for each of the four versions. Since the title "We the People" is common and the name "John Buck" is far from  unique, I have suggested that people search for the book by its ISBN or "Villines." However, complaints persisted. After visiting each site and searching for each title, I discovered there is no one way to find the book.
Search Everything
Even on each of the Amazon stores around the world, one keyword doesn't work but another one does. The ISBN doesn't either. "Villines" returns no items but "Sharon Villines" will find six or seven. "We the People" won't work, but elsewhere "We the People: Consenting to a Deeper Democracy" works for all three language versions. Or it only works for the English edition and the Spanish and Portuguese versions have to be searched by their titles. In some countries, the authors may not be listed at all, only by the translators.  It's not so easy as I thought.
 Available from these Booksellers
Now an expert in bad search engines in many countries, I have included below the links to each of the language versions at each of the online stores. Amazon's websites are only listed first because there are so many of them and not all countries allow purchases to be made from outside their borders. (Reasons I've been given include protection against money laundering and political unrest.)
The English, Portuguese, and Spanish translations are available as indicated below, but as availability grows, a Google search on the full book title will may you find other booksellers.
Amazon AU
Amazon India
Amazon Brazil
Amazon Canada
Amazon China

Unable to locate listings

Amazon France
Amazon Germany
Amazon Italy
Amazon Japan
Amazon Mexico
Amazon Netherlands
Amazon Spain
Amazon Turkey
Amazon US
Amazon UK
Barnes & Noble
Bol.com
ITunes Digital Edition
Kobo
Scrbd
ABE Books is a resource for finding new and used books from independent booksellers. They have a good search engine and service is predictably prompt and reliable.
Powell's City of Books claims to be the largest independent bookstore in the world, probably true. They have had almost everything I have ever looked for, used or new, but they don't carry digital editions.
Bulk Orders
Trainers, consultants, schools, and organizations can order 20+ copies of the English print edition at a significant discount directly from Sociocracy.info Press: Bulk Orders.