A video has been posted on YouTube that talks about using sociocracy at Lost Valley Intentional Community. This is a nice video for residential communities — cohousing, cooperatives, condominium, and intentional — because it talks about the values and benefits of creating a sociocracy without the corporate/business vocabulary and concerns. It is also set on the community grounds rather than in an office.
http://www.youtube.com/watch?v=Hyw0gBsDeho
About Lost Valley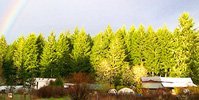 The Lost Valley Intentional Community is associated with Lost Valley Educational Center, a long-established and relatively well-known North American permaculture education and intentional community near Eugene, OR. It has been a model for many similar entities and work exchangers, interns and students flow through on a regular basis.
Implementation of sociocracy at Lost Valley was initiated in part by a contact at a workshop given by John Schinnerer and attended by Melanie Rios at the 2010 Northwest Permaculture Convergence in Seattle, WA.