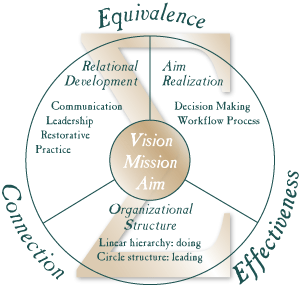 The circle is a universal symbol for wholeness and inclusion, while the Greek letter sigma denotes the sum of all parts of a whole. The Circle Sigma System provides a framework for groups to work together in connection toward wholeness as expressed by their common aim or goal. The organization and its members work in the context of shared core values and are guided by common central tenets. The system was developed by Gregory Rouillard of Storm Integrated Solutions.
Core Values
Connection: the members of the organization value the quality of their working relationships with each other.
Equivalence: each member of the organization has an equal voice in deciding the conditions for working together.
Effectiveness: members of the organization value getting things done to achieve their shared vision.

Central Tenets
Vision: a view or dream of the world the organization is working toward.
Mission: how the organization operates in order to realize the vision (internal view).
Aim: a product or service that is the focus of work for the organization (external view).

Component Elements and Constituent Models
The component elements of the Circle Sigma System, the "pieces of the pie" in the diagram shown above, include Organizational Structure, Aim Realization, and Relational Development. The Circle Sigma System integrates three constituent models: Sociocratic Circle-Organization, Compassionate Communication, and Restorative Circles.